Bristol is one of the greatest cities in England. Full of open spaces, quirky venues and food from literally anywhere in the world, it's multi-cultural and vibrant.
Beneath the hot air balloons, iconic suspension bridge and sparkling harbourside, Bristol hides some dark secrets from its past. It was a key player in the transatlantic slave trade in the 17th and 18th centuries. Before that, it was a popular den for pirates and smugglers who would gather on Welsh Back, huddled around candlelit barrels.
If you find the macabre morbidly interesting, then there's plenty of free things to do in Bristol that can teach you more about its dark history.
Here are the top 7 darkest histories of Bristol that you can still learn about when visiting the city.
7. Anthropodermic Bibliopegy – Books made of Human Skin
As part of a lovely day out in Bristol you can visit M Shed, which tells of the local history and culture, and contains a book made from real human skin…
What is anthropodermic bibliopegy?
Anthropodermic bibliopegy refers to books bound with human skin. There are 50 of these known books in existence.
The one in Bristol M Shed, is made from the skin of convicted murderer, John Horwood. The pages detail his murder, trial and subsequent conviction.
John Horwood's trial took place in 1821, and after he was found guilty, he was the first person to be hanged at Bristol New Gaol.
The murder of Eliza Balsom
John Horwood and Eliza Balsom had grown up together in a small community. When they were both 17, they entered a short-lived relationship that Eliza subsequently ended.
The papers tell us that John became infatuated, first intimidating her with unwanted proposals and then attacking her when she ignored him.
When he saw her with another boy in January 1821, he threw a stone which struck her temple and eventually, nearly 3 weeks later, killed her.
John Horwood's trial took place 11th April, 1821. He was found guilty and hanged two days later.
The human skin book
Dr Richard Smith of the Bristol Royal Infirmary later dissected John Horwood's body during a public lecture. Part of this process involved removing his skin, and Dr Richard Smith, for reasons best known unto himself, chose to tan the skin and use it to form the book on John Horwood's life and uses after death.
If skin-based artefacts really tickle your pickle, you can also visit the oldest pub in Bristol, The Hatchet Inn, whose front door is also allegedly made from real human skin.
6. Bristol's Christmas Steps
The Christmas Steps in Bristol is a beautiful and faint-inducing climb starting in the centre and working its way up St Michael's Hill. The original steps were constructed in 1669, but were recreated between 1865-1881 and are now a Grade II listed building.
But despite their beauty and festive name, the steps have a dark history. Before they were constructed, the road was muddy, slippery and small. An uncomfortable and difficult journey, and one made by the condemned.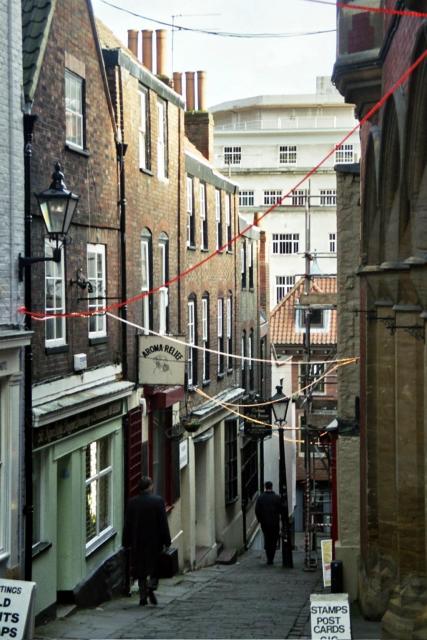 The dark history of Bristol's Christmas Steps
Until 1816, Bristol's convicted would hang for their crimes atop St Michael's Hill, known as 'Gallows Acre'.
The final journey for criminals would be up the Christmas Steps (although not known by this name at this time), slipping and trudging the tiny road until they reached their fate at the top.
Visitors to the city would be greeted by the screams of the condemned as they hung atop the city like a gruesome puppet show.
Nowadays, its home to cute bars and little local shops – check it out!
5. Redcliffe Caves, Bristol
Beneath the red sandstone cliffs that give Bristol's Redcliffe its name, is a honeycomb maze of tunnels and caves that have been part of the cliffs since the Middle Ages.
Originally dug to provide sand for glass making and pottery production, the full extent of the caves is still unknown; although multiple excavations have taken place over the last 2-300 years.
If you take a drive down Bristol Portway, under the suspension bridge, you'll find yourself captivated by stunning views of the gorge both sides, where you'll be able to see some of the Redcliffe's cave entrances dotted along the cliff side.
Redcliffe Caves as prisons
Pretty as they are, the Redcliffe Caves have served a dark purpose in Bristol's history. As well as a long-standing theory that they link to the crypt underneath St Mary Redcliffe Church, they were also used as prison cells during the French Revolutionary and Napoleonic Wars.
Imagine being imprisoned in the side of a cliff, knowing this dark, damp maze of tunnels may be the last thing you ever see…
4. Edward Teach aka Blackbeard; Bristol's Famous Pirate
You might better recognize Edward Teach by his pirate name: Blackbeard. Born around 1680, Blackbeard is one of the most notorious pirates to have roamed the high seas; and he allegedly came from Bristol.
Blackbeard was known for his black, bushy beard (funnily enough), and propensity to stick slow lighting fuses in it and his hair to give off the impression that he was coated in an eerie, thick fog. He soon gained a reputation for his terrifying appearance.
"such a figure that imagination cannot form an idea of a fury from hell to look more frightful."

Charles Johnson, 1724
Despite this, he actually wasn't too bad as a pirate. Blackbeard won most of the battles he faced and there is no evidence he ever murdered or harmed those he captured. In fact, he was a privateer first and foremost and only later became a pirate for a short duration of around 4 years.
How did Edward Teach die?
Edward Teach/Blackbeard was living at Ocracoke Island, North Carolina, in 1718, when the Governor of Virginia grew concerned for his colonies with the pirate's looming presence. The safest thing, he decided, would be to dispatch Blackbeard.
On 21st November, Lieutenant Robert Maynard attacked Blackbeard when his numbers were small and he had neglected to set a lookout. With the element of surprise, Maynard's forces overwhelmed Blackbeard's small gathering quickly and although he went down fighting ferociously, the pirate was finally killed.
Maynard decapitated Blackbeard and displayed his head on the bow of his ship as a grisly trophy.
Drink with pirates at the Llandoger Trow
The Llandoger Trow on Welsh Back, Bristol, was a pub that merchants, pirates and many famous names have frequented in the past 350 years.
The Llandoger Trow is allegedly where Blackbeard drank, and the inspiration for Robert Louis Stevenson's Treasure Island. You can still visit the building on King Street and peer in at the darkened bar where pirates and smugglers convened hundreds of years ago.
3. The Georgian House and Pero's Bridge, Bristol
Bristol, unfortunately, played a huge role in the transatlantic slave trade. The city was a major port in the 17th and 18th centuries and Bristolians traded over 500,000 enslaved African people.
Across Bristol you can see evidence of how the city profited from the slave traders who lived there. Slave traders like Edward Colston, John Pinney and Edmund Saunders all have buildings, streets and monuments named in their "honour" (although as of 2019, some of these have been changed).
Who was John Pinney?
John Pinney was a Bristol slave trader who owned a plantation in Nevis where he kept approximately 210 slaves. When he returned from Nevis (with slave Pero Jones in tow), he made his money by taking plantations and slaves from other traders who had defected on their loans to him. In the end, he owned over 900 people.
After returning to Bristol in 1783, Pinney had The Georgian House on 7 Great George Street built, where he lived from 1790 onwards. It is now a museum detailing his exploits in the slave trade.
Pero Jones' Bridge
Perversely, like many other British cities, across Bristol you will find monuments and statues to both the slave trader and their victims.
John Pinney's slave, Pero Jones has his own monument named after him – Pero's Bridge on Bristol harbourside, which opened in 1999.
2. Black Lives Matter and Edward Colston's Statue
As we've already mentioned, Bristol was a key player in the transatlantic slave trade.
Who was Edward Colston?
Edward Colston was a major slave trader living in Bristol in the late 1600's. By 1689 Colston was deputy governor of the Royal African Company, which held a monopoly on the English trade of African slaves.
It's estimated the company transported over 84,000 slaves from Africa during this period.
The removal of Edward Colston's statue
During the Black Lives Matter protests in 2020, protesters pulled down the statue of Edward Colston that has stood in Bristol City Centre for over 120 years, and unceremoniously dumped in the harbour.
What happened next?
City officials fished it out later and you can visit the statue in M Shed.
Bristol has a rich protesting history. The Black Lives Matter protests in Bristol, 2020, were tumultuous with clashes with the police, and some destructive parties giving all protestors a bad name. But ultimately, they achieved something great.
Not only did Edward Colston's statue lose its home in the centre, but venues named after Colston have been renamed to things that don't… you know; venerate a slave trader.
1. The Bristol Bus Boycott, 1963
People of colour continued to be treated terribly by Britain long after slavery ended. Discrimination and segregation seeped into every facet of life; enforced on buses, in housing and employment, to name a few.
In 1963, the Bristol Omnibus Company refused to employ Black or Asian bus crews, despite labour shortages. They called this The Colour Bar, and although union officials denied its existence, there is evidence to the contrary. Such as the fact that less than 10 years earlier in 1955, a resolution had been passed that 'coloured' workers could not be employed as bus crews.
West Indians in Bristol
In the 50s and 60s, West Indians made up an estimated 3,000 of Bristol's residents. Some had fought by our side in World War 2, although that didn't change the discrimination they faced afterwards.
After the West Indian Association seemed to not make progress in fighting discrimination in Bristol, a group of 4 disillusioned young men formed the West Indian Development Council, who, inspired by Rosa Parks, announced the Bristol bus boycott in 1963.
The boycott, 1963
In April 1963 and for the next 4 months, West Indians refused to use Bristol busses.
On 28th August 1963, Ian Patey announced they would no longer discriminate based on colour when employing bus crews; the same day as Martin Luther King's 'I Have a Dream' speech.
Just over 2 weeks later, on 17th September, Raghbir Singh, became Bristol's first non-white bus conductor.
If you want to learn more about the Bristol Bus Boycott, you can see original sources from the time at Bristol's M Shed.